Aldrich Library April Newsletter
Event Date: April 30, 2018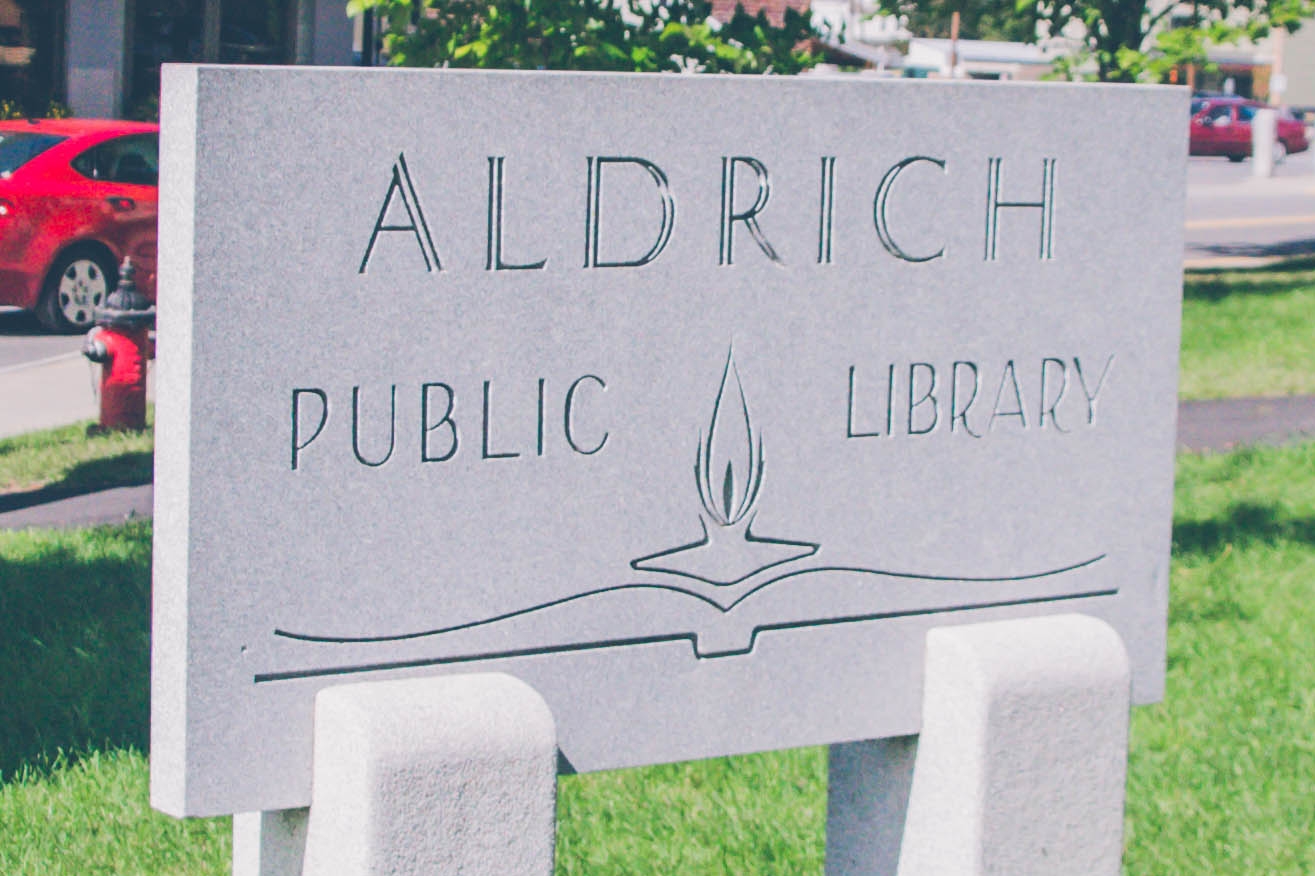 Spring Fling Gala
SAT. 4/28 FROM 6-9PM.
Three floors of fabulous food, music, and magic make this our biggest fundraiser of the year! Hors d'oeuvres by Cornerstone, desserts by Delicate Decadence, live music by Sarah Munro, Mark LeGrand, & the Lovesick Band, and a full stage show by Marko the Magician. Tickets are $35, available at the library. Reserve yours by April 20!
Special Programs
Full STEAM Ahead @ Your Library!
WED. 4/4, 18, & 25 AT 6:00PM. MILNE ROOM.
Registration is required for this free afterschool STEAM (Science, Technology, Engineering, Art, Math) program for 4th and 5th graders in Barre. Sessions this month include water science, squishy circuits, and wind science. Register online at https://goo.gl/rQu2bz or call the library. Sponsored by Barre Kiwanis, NorthCountry Federal Credit Union, and Community National Bank.

Alice In Wonderland Party
TUE. 4/17 AT 1:30-4:30PM. MILNE ROOM.
Kids are invited to join Alice, the Mad Hatter, and other characters for a tea party, story time, crafts, library scavenger hunt, and a viewing of the animated G-rated movie celebrating the classic book by Lewis Carroll. Snacks provided.
It's more fun to DIY: Rocks Rock!
2nd TUE. OF THE MONTH AT 5PM. YA ROOM. (4/10)
Paint rocks with awesome designs. Teens can try a different hands-on activity each month. RSVP so we know how much material to prep, otherwise walk-ins still welcome.

Mini Spring Lock-in I
FRI. 4/13, 6-8PM. MILNE ROOM.
Free food and film after-hours for 7-12th graders! Permission slip required.

Mini Spring Lock-in II
FRI. 4/20, 6-8PM. MILNE ROOM.
Free food and film after-hours for 7-12th graders! Permission slip required.
Weekly
Story Hour
EVERY MON. & TUE. AT 10:30AM. CHILDREN'S ROOM.
Stories, songs, and fingerplays, followed by a craft. Check Facebook to preview the theme each week!
York Branch Story Time
EVERY TUE. AT 10AM. YORK BRANCH.
All the fun of story time, conveniently located at our branch in East Barre!
Baby Play
EVERY WED. AT 9:30-11:00AM. CHILDREN'S ROOM.
This playgroup is for 0-3 year olds and their adults. Brought to you by the Family Center of Washington County.
Chess Club
FRI. 4/13, 4/27 AT 3:45PM. MILNE ROOM.
Ages 7-13 are invited to join us in a game of chess! Players of all levels welcome-- no prior experience required. Feel free to bring your own chess set. Snacks provided.
Lego Club
EVERY WED. 4PM. CHILDREN'S ROOM.
Come test your creativity with LEGO challenges and earn badges. Legos and snacks provided. Ages 5 and up.
FOR KIDS AND TEENS
Teen Advisory Council
3rd THU. OF THE MONTH AT 4:15PM. (4/19)
7-12th graders, come voice your ideas and bring programs and events to the library! Ask the librarian how to join.
Magic: the Gathering Tournaments.
EVERY FRI. 3-5PM. VERMONT ROOM.
Magic players of all ages and experience levels are welcome to join the ongoing games.
Pokemon Challenge.
YA ROOM.
Earn a badge each week by taking on a challenge. For all ages.
Teens, come game on our PS4! Also check out our Perler beads and board games.
FOR ADULTS

Resilience: The Biology of Stress and the Science of Hope
TUE. 4/3, 6PM. MILNE ROOM.
Join us for this free screening of a James Redford documentary exploring and explaining how toxic stress during childhood impacts lifelong health. We'll learn what can be done to mitigate the damage and build resilience for lifelong health and recovery. Sponsored by Building Flourishing Communities and the Barre Promise Community. Discussion follows screening.

Senior Day: Shockwave Arts Collective
WED. 4/4, 1:30PM. MILNE ROOM.
Our 2018 Senior Day series kicks off with a special presentation of art and poetry through the community developmental services at Washington County Mental Health. Light refreshments will be served.

Community Dialogue on Resiliency and Adverse Childhood Experiences
TUE. 4/10, 6PM. MILNE ROOM.
Science tells us that prolonged stress changes our bodies and can create poor health outcomes. Come learn more about NEAR (Neurobiology, Epigenetics, Adverse Childhood Experiences, and Resiliency) with local Master Trainers David Sanguinetti, Priscilla White, and Kelly Young. Toxic stress experienced by children and families impacts the health of an entire community, and its effects are both far-reaching and expensive. You are encouraged to attend the screening of the documentary Resilience on Tuesday, 4/3 and join us for a community discussion one week later on Tuesday, 4/10, as we delve into these important issues during National Child Abuse Prevention Month this April.

American Values Reading and Discussion Group
WED. 4/11 & 4/25 AT 6PM. BOARD ROOM.
Founding documents and landmark speeches help us understand the core values at the heart of our national experiment – what they meant then and now, and how well we practice what we preach. In April, we'll be discussing Lincoln's Gettysburg Address and Roosevelt's Four Freedoms speech. Texts for each session are available at the library ahead of time. Discussion led by Nat Frothingham; sponsored by the Friends of the Library and the Vermont Humanities Council.

Reading Circle Book Group
WED. 4/18 AT 6:30PM. BOARD ROOM.
This month's selection is The Memory Keeper's Daughter by Kim Edwards. Copies are available at the library.

Genealogy Group
THU. 4/19, 10-12PM. BOARD ROOM.
Amateurs and experienced genealogists alike can join as we offer support and explore our histories together.

Friends of the Library
TUE. 4/24 AT 6:30PM. BOARD ROOM.
Show your library love by joining the Friends! All funds raised by the Friends of the Library support collections and programs.

Job Hunt Helper
EVERY WED. 3-6 & FRI. 1-3. READING ROOMS.
Our CCV Intern is here to help you find a job, get a better job, hone your resume, get professional certification, explore career paths, or anything else you need to move your career forward. Call 476-7550 to make an appointment.

Free Tax Prep with Capstone
Saturdays 10am-2pm, 2/17 - 4/14. MILNE ROOM.
Those with income up to $54,000 in 2017 can get free help to prepare and file state and federal income tax returns. You can also get help if you only need to file a Renter's Rebate or Homestead Declaration.