Aldrich Library May Newsletter
Event Date: June 30, 2018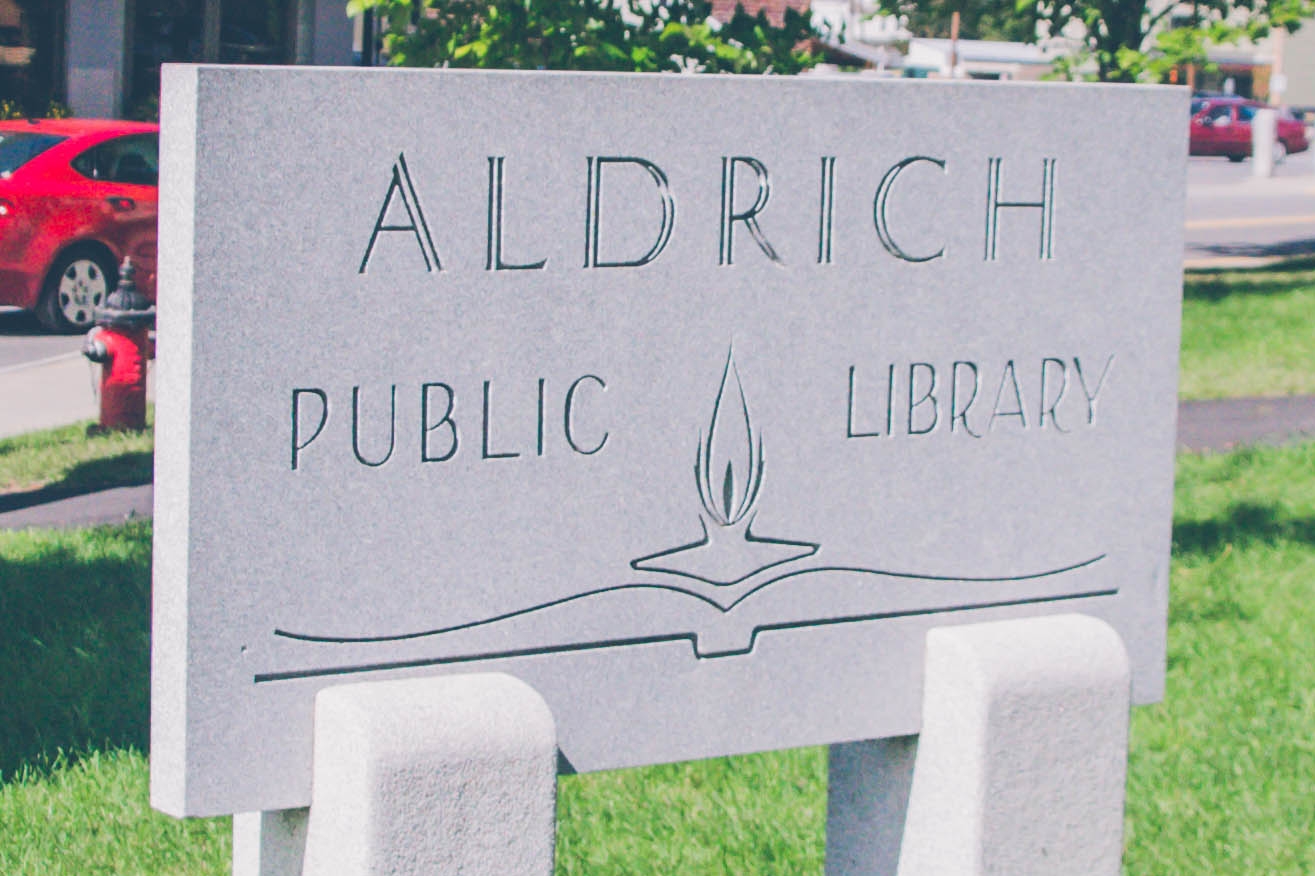 KIDS
Fairy House Storytime. SAT. 6/16 AT 1:00PM
Join librarian and bagpiper Ian Gauthier at 44 Brook St, Websterville kiosk for a short forest walk and stories followed by fairy house building with natural materials. Ages 4+ and their parents. Dress for conditions. Cancellation in case of rain.
Kids' International Music Day. THU. 6/21 AT 4:00PM
Ages 4-12 & parents are invited to celebrate Make Music! Join us for storytelling, Scottish and Irish music with harpist and Gaelic singer Dominique Dodge, and bagpiper Iain MacHarg.

Selkies and Seals Movie Party. FRI. 6/22 AT 1:00-3:30PM
Hear Scottish stories about selkies, seals with the power to change into humans, make crafts, and watch a PG film. Recommended ages 7-12. Snacks provided.

Dancing Oobleck! TUE. 6/26 AT 1:30PM
Oobleck is a non-Newtonian liquid-- it flows like liquid, but reacts like a solid when force is applied. Ages 3-12 are invited to make colorful oobleck and explore its unique properties, particularly how it responds to sound waves!

Shadow Puppet Musicals. WED. 6/27 AT 1:00PM
Explore the science of light and shadows by designing shadow puppets and writing and performing your own story!

Author Talk: Children's Book Creators Jason Chin and Deirdre Gill. WED. 6/27 AT 6PM. MILNE ROOM.
Jason has researched, written and illustrated books on redwood trees, space, and the Galapagos Islands, to name a few, while Deirdre's beautiful illustrations can be found in Trains Don't Sleep and in her own fanciful tale, Outside. Light refreshments and signing to follow. Books for sale thanks to Next Chapter Bookstore.

Saragail Benjamin's Rockin' Rhythms. THU. 6/28 AT 1:30PM. Children, teens, and adults are invited to a drumming storytelling session! Master drummer Saragail will bring drums for everyone to play. She'll teach us to play, then we'll drum a story! Rock it to the moon! Creative, innovative fun for all!

Story Hour. EVERY MON. & TUE. AT 10:30AM. CHILDREN'S ROOM. Stories, songs, and fingerplays, followed by a craft. Check Facebook to preview the theme each week!

York Branch Story Time. EVERY TUE. AT 10AM. YORK BRANCH.
All the fun of story time located at our branch in East Barre!

Baby Play. EVERY WED. AT 9:30-11AM. CHILDREN'S ROOM.
This playgroup is for 0-3 year olds and their adults. Brought to you by the Family Center of Washington County.

Chess Club. FRI. /8 & 6/22 AT 3:45PM. MILNE ROOM.
Ages 7-13 are invited to join us in a game of chess! Players of all levels welcome-- no prior experience required. Feel free to bring your own chess set. Snacks provided.

Lego Club. EVERY WED. 4PM. CHILDREN'S ROOM.
Come test your creativity with LEGO challenges and earn badges. Legos and snacks provided. Ages 5 and up.
TEENS
It's more fun to DIY: Finger loom band.
2nd TUE. OF THE MONTH AT 5PM. YA ROOM. (6/12)
Teens can try a different hands-on activity each month. RSVP for material to prep, otherwise walk-ins still welcome.

Teen Advisory Council
3rd WED. OF THE MONTH AT 4:15PM. (6/13)
7-12th graders, come voice your ideas and bring programs and events to the library! Ask the librarian how to join.

Summer cinema 1. WED. 6/27 AT 1:30PM. YA ROOM.
Free popcorn and film for teens!

Drums in the library?! THU. 6/ 28 AT 1:30PM. MILNE RM.
Try your hands at playing on a drum with Saragail Benjamin. For all ages!

Magic: the Gathering Tournaments. EVERY FRI. 3-5PM. VERMONT ROOM. Magic players of all ages and experience levels are welcome to join the ongoing games.

Pokemon Challenge. YA ROOM. Take challenge, earn badges!
Teens, come game on our PS4! We also have Perler beads, board games & more.
Programs for Adults
Senior Day: Scottish tunes, jokes, & songs with Ian Gauthier
WED. 6/6 AT 1:30PM. MILNE ROOM.
Hear this Barre native play Highland pipes, Scottish smallpipes, and whistle. A piper with the award-winning Catamount Pipe Band, Ian will be off to Scotland in August for the World Pipe Band Championships! Entertaining and wildly talented, Aldrich Library is fortunate Ian is also our Children's Librarian. Refreshments to follow.

Author Talk: Photographer and Essayist Peter Miller. WED. 6/6 AT 6PM. MILNE RM. Miller has been capturing the real Vermont in poignant, award-winning photographs for decades. He was elected Vermonter of the year in 2006 and has been honored by the US Senate for his work. His latest book, Vanishing Vermonters: Loss of a Rural Culture, examines challenges faced by 23 Vermonters coping with the cost of living in what has become one of the most expensive states in the union. Refreshments and signing to follow. Books for sale thanks to Next Chapter.

Reading Circle Book Group
TUE. 6/19 AT 6:30PM. BOARD ROOM.
This month is My Sister's Keeper by Jodi Picoult. Copies available at the library. Note: the book group meets on Tuesdays from June-August to allow members to attend the Summer Authors series Wednesday evenings.

Friends of the Library
TUE. 6/26 AT 6:30PM. BOARD ROOM.
Show your library love by joining the Friends! Funds raised support the library. We're now planning the summer book sale during Heritage Festival.

Job Hunt Helper
EVERY WED. 3-6PM & FRI. 1-3PM. READING RMS. Our CCV Intern is here to help you find a job, get a better job, hone your resume, get professional certification, explore career paths, or anything else you need to move your career forward. Call 476-7550 to make an appointment. This is our job hunt helper's last month, so make an appointment while you can!
Programs for Everybody
Knit 2Gether Fiber Arts Group
EVERY THU. 1-3PM. VERMONT ROOM. Fiber artists of all sorts, ages, and abilities are welcome. Give and get advice and inspiration with a great group of crafters! Spin, weave, knit, crochet and more!

Author Talk: Naturalist and Hiker Mark Mikolas. WED. 6/13 AT 6PM. MILNE ROOM. In A Beginner's Guide To Recognizing Trees of the Northeast, writer and avid hiker Mikolas lays out easy and interesting tips and tricks to identify the 20 most common trees of the Northeastern US, even in winter when leaves and flowers are gone. Did you know that black cherry bark looks like burnt potato chips? Refreshments and signing to follow. Books for sale thanks to Next Chapter Bookstore.

Book Sale in East Barre
SAT. 6/16 FROM 9AM-2PM. YORK BRANCH. A wide selection of great books at unbeatable prices! If you haven't visited our branch location in a while, this is a great excuse to check it out.

Author Talk: Baker Martin Philip
WED. 6/20 AT 6PM. MILNE ROOM.
Philip is a baker, author and banjoist. His book, Breaking Bread: A Baker's Journey Home in 75 recipes was recently awarded the Grand Prize at the New England Book Festival. His life journey includes working as a professional opera singer, escaping from the frenzied world of NYC investment banking, and working his way up as a novice breadmaker to eventually become head baker at King Arthur Flour. He's promised to bring stories, bread, and banjo for what's sure to be a great evening! Refreshments and signing to follow. Books for sale thanks to Next Chapter.

Porch Concert: Harpist Dominique Dodge. THU. 6/21 AT 6:30PM. YORK BRANCH. What better way to wrap up World Music Day than with a free concert of traditional Celtic harp songs in a beautiful library setting at our York Branch on Mill St. in East Barre? Dominique is a world renowned harpist and singer in both English and Gaelic.

Museum pass highlight: Vermont State Parks. Cool off this summer with a dip in the Waterbury Reservoir or at Boulder Beach in Groton. Go on a family hike, mountain bike ride, or canoe trip. Our state park pass is good for free daytime admission to any Vermont State Park for up to 8 people in one vehicle. Time for a field trip! Passes available at both the Main Library and the York Branch in East Barre.