Aldrich Library November Newsletter
Event Date: January 31, 2018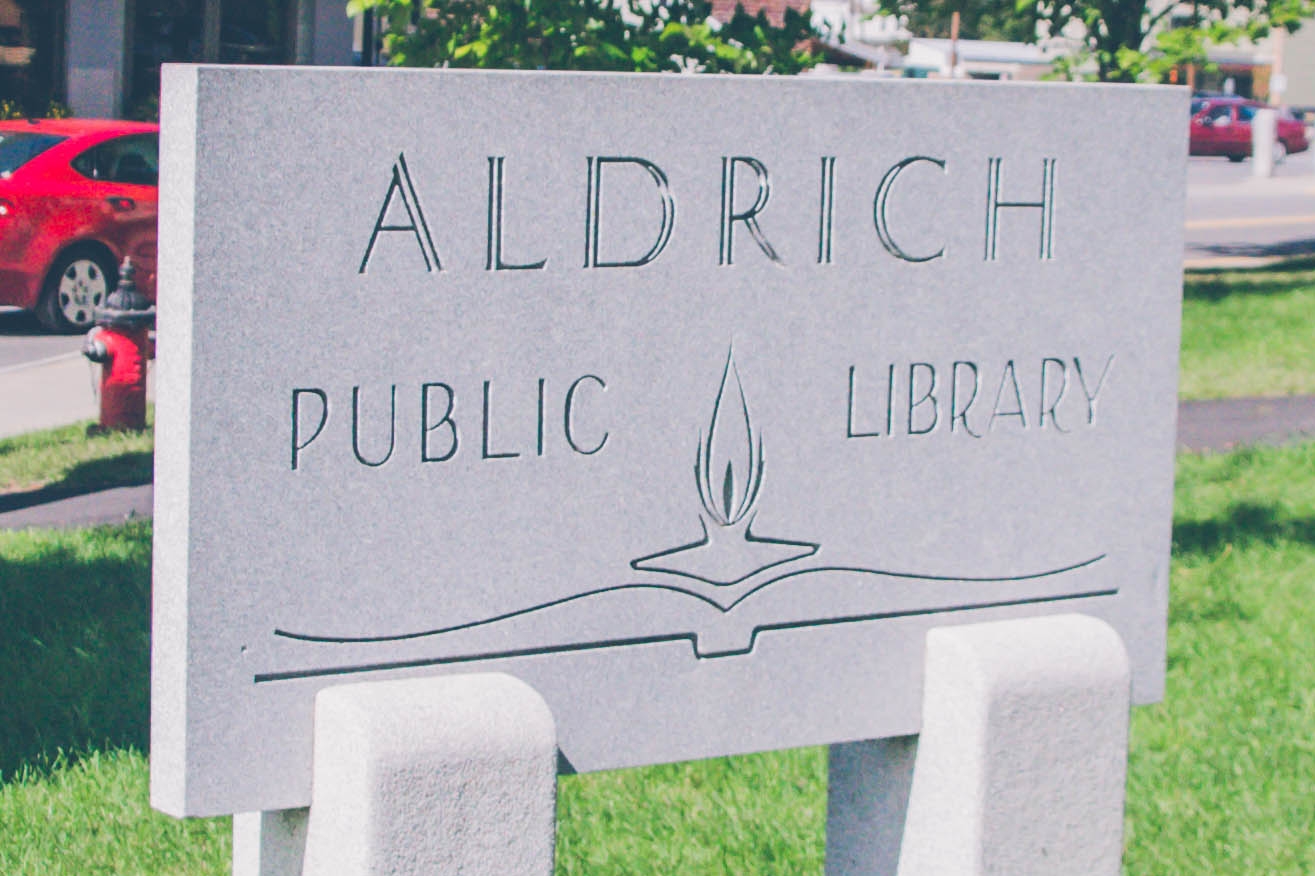 Programs for Everyone
Reader's Theatre: Shakespeare's Twelfth Night
Saturday, January 6, 1-3:30pm. Milne Room.
"Journeys end in lovers meeting." "I say there is no darkness but ignorance." "If music be the food of love, play on." Come participate in this public reading of Shakespeare's memorable comedy Twelfth Night. No performance experience required! Refreshments provided.
"Anything Goes" Poetry Slam
Friday, January 26 at 6:30pm. Milne Room.
This "Anything Goes!" slam features a 5-minute limit for poets, solo and group performers, and musicians. "Covers" okay if noted as such. As an all-ages event, discretion is required. Can the single voice of an impassioned poet outscore a harp solo? Find out! Come early and enjoy free pizza at 6!
Knit 2Gether Fiber Arts Group
Thursdays, 1-3pm. Vermont Room.
Fiber artists of all sorts, ages, and abilities are welcome. Give and get advice and inspiration with a great group of crafters! Spin, weave, knit, crochet and more!
Museum pass highlight: ECHO
We have a whole host of museum passes you can borrow, FREE! ECHO is more than just a museum, it's an aquarium that highlights the biology and history of the Lake Champlain region with exciting permanent and rotating exhibits. Check out their Innovation Playground open through January 15. And don't miss Champ Lane, their special area for young children (including pre-walkers) and their adults. Our pass brings admission down to $7 per person for up to four people.
Weekly
Story Hour
Every Monday & Tuesday at 10:30am. Children's Room.
Stories, songs, and fingerplays, followed by a craft. Check Facebook to preview the theme each week!
York Branch Story Time
Every Tuesday at 10am. York Branch.
All the fun of story time, conveniently located at our branch location in East Barre!
Baby Play
Every Wednesday from 9:30-11:00am. Children's Room.
This playgroup is especially for 0-3 year olds and their adults. Brought to you by the Family Center of Washington County.
Lego Club
Every Wednesday at 4pm. Children's Room.
Come test your creativity with LEGO challenges and earn badges. Legos and snacks provided. Ages 5 and up.
Magic: the Gathering Tournaments.
Every Friday from 3-5pm. Vermont Room.
Magic players of all ages and experience levels are welcome to join the ongoing games.
Teens, come check out our new Playstation 4 in the Teen Room!
FOR KIDS AND TEENS
Chess Club
Friday January 5 and 19 at 3:45pm. MILNE ROOM.
Ages 7-13 are invited to join us in a game of chess! Players of all levels welcome--no prior playing experience required. Feel free to bring your own chess set. Please RSVP by calling the library.
Teen Winter Lock-in
Saturday, January 20 from 4-8pm.
Grades 7 - 12 are invited to an awesome evening with free dinner, film, and activities. Pick up a permission slip!

Teen Advisory Council
3rd Thursday of the month at 4:15pm. (1/18)
Voice your ideas and bring programs and events to the library! Ask the librarian to join.
FOR ADULTS

Classic Journalism Films: Good Night and Good Luck
SAT. 1/13 AT 2:30PM. MILNE ROOM.
We're delving into some of the greatest films ever made, all on the timely topic of journalism, free speech, and freedom of the press. In this month's feature, David Strathairn stars as CBS journalist Edward R. Murrow and George Clooney (who also directed) co-stars as Murrow's producer Fred Friendly. Morrow struck one of the early blows against the guilt-by-association tactics of Senator Joseph McCarthy, and the film centers on the Murrow-McCarthy conflict that unfolded in 1953. Introduction of each film and discussion afterwards led by Rick Winston. Free popcorn! This series runs on second Saturdays from December - March.

Friends of the Library
Tuesday, January 9 at 6:30pm. Board Room.
Join the Friends of the Library to support Aldrich library! This month we're planning the annual winter banquet and auction. All funds support library collections and programs.
Reading Circle Book Group
Wednesday, January 17 at 6:30pm. Board Room.
This month's selection is The Captain's Wife by Douglas Kelley. Copies are available at the library.

Genealogy Group
Thursday, January 21 at 10-12pm. Board Room.
Amateurs and experienced genealogists alike can join us as we offer support and explore our histories together.
Job Hunt Helper
Every Wednesday 3-6 & Friday 1-3. Reading Rooms.
Our CCV Intern is here to help you find a job, get a better job, hone your resume, get professional certification, explore career paths, or anything else you need to move your career forward. Call 476-7550 to make an appointment.