Aldrich Library September Newsletter
Event Date: September 30, 2017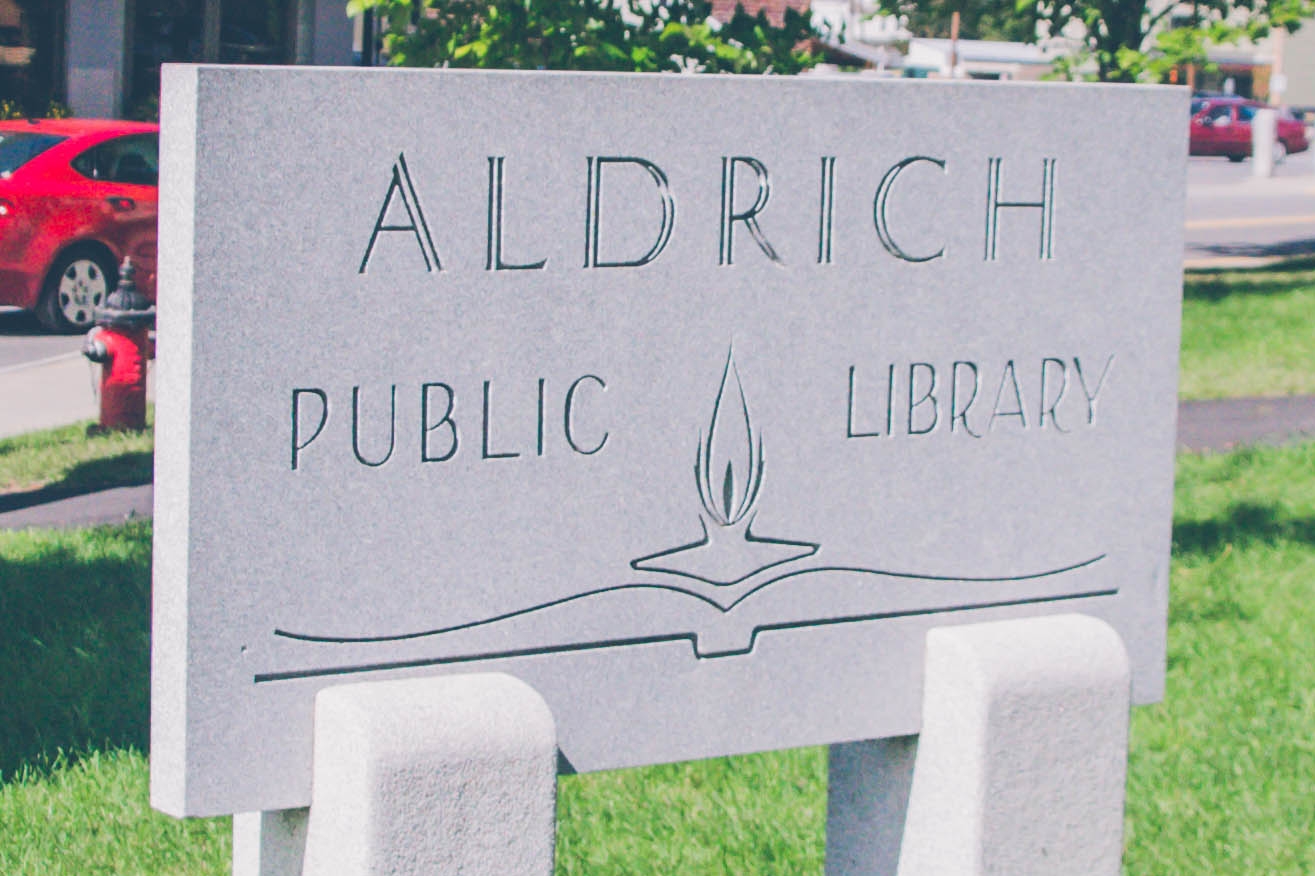 Barre Reads Opening Celebration: Writing From The Heart
WED. 9/13 AT 6:30PM. MILNE ROOM.
Leda Schubert, author of Listen: How Pete Seeger Got America Singing, will kick off our 20th annual Greater Barre Community Writing Contest inspired by this year's Barre Reads book Brown Girl Dreaming by Jacqueline Woodson. Come pick up a book and get your inspiration for the winning entry in this year's writing contest! Light refreshments served.
Writers Write
WED. 9/21 AT 6PM. YORK BRANCH.
Writers write and need supportive feedback. Writers of all genres are welcome: memoir, poetry, drama, fiction, nonfiction. Come to these free monthly meetings to share your writing, build confidence, improve skills, feel motivated, and decrease isolation. For more information contact ie.on.literacy@gmail.com or visit iefacilitation.com.

Barre Reads Film Festival: Crooklyn
TUE. 9/26 AT 6PM. MILNE ROOM.
Come to this screening of Spike Lee's semi-autobiographical film about growing up black in 1970s Brooklyn. Discussion afterwards led by Savoy Theater founder Rick Winston.

Knit 2Gether Fiber Arts Group
THURSDAYS, 1-3PM. VERMONT ROOM.
Fiber artists of all sorts, ages, and abilities are welcome. Give and get advice and inspiration with a great group of artists and crafters! Spin, weave, knit, crochet and more.
FOR KIDS AND TEENS
Barre Town Forest Storytime
SAT. 9/9 AT 1PM. TOWN FOREST KIOSK. 44 BROOK ST. WEBSTERVILLE.
Follow bagpiper and children's librarian Ian on a short walk followed by stories, songs, and a fall nature activity. Suggested ages 4-7 accompanied by their parents. Dress for weather conditions. Event cancelled if it rains.

It's more fun to DIY: Origami cranes
2nd TUE. OF THE MONTH AT 5PM. (9/12)
A different hands-on activity each month. Make a paper crane and learn how to string them together.
Teen Advisory Council
3rd THU. OF THE MONTH AT 4:15PM. (9/21)
Voice your ideas and bring programs and events to the library! Ask the librarian to join.

Game Jam: Code a visual novel
THU. 9/28 AT 4PM. MILNE ROOM.
Teens and adults can learn how to code a game in Ren'Py, creating your own interactive visual novel.

Weekly Programs
Story Hour
MONDAYS & TUESDAYS AT 10:30AM. CHILDREN'S ROOM.
Stories, songs, and finger plays, followed by a craft. Check Facebook to preview the theme each week! Tuesday storytimes resuming after Labor Day (9/5).

York Branch Story Time
TUESDAYS AT 10AM. YORK BRANCH (EAST BARRE).
All the fun of story time, conveniently located at our branch location in East Barre!

Lego Club
WEDNESDAYS AT 4PM. CHILDREN'S ROOM.
Come test your creativity in individual and group challenges. Legos and snacks provided. Ages 5 and up.Farmers Market

Story Time
WEDNESDAYS AT 5:30PM, CURRIER PARK.
Come enjoy a special themed story time outside each week at the Barre Farmers Market! Note the earlier time this month.

Magic: the Gathering Tournaments
FRIDAYS 3-5PM. VT RM.
Magic players of all ages and experience levels are welcome to join the ongoing games.

Teens, come check out the new room layout and try out the perler beads and board games.
FOR ADULTS

Senior Day: The Carpenters Cover Concert
WED. 9/6 AT 1:30PM. MILNE ROOM.
Sally Olson performs her famous Karen Carpenter tribute. Fans around the country say she is the closest thing to seeing The Carpenters live again. Sally uses authentic vintage costumes to bring the audience back in time and offers commentary on the history and lives of the Carpenters and their music. Light refreshments follow the program.

Reading Circle Book Group
WED. 9/20 AT 6:30PM. BOARD ROOM.
This month's selection is Wild Swans by Jung Chan. Copies are available at the library.
Genealogy Group
THU. 9/21, 10AM-12PM. BOARD ROOM.
Amateurs and experienced genealogists alike are welcome to join us as we find and offer support and explore our histories together.

Friends of the Library
TUE. 9/26 AT 6:30PM. BOARD ROOM.
Join the Friends of the Library to support Aldrich library! The Friends host fundraising events throughout the year including the annual banquet and auction, book sales, and more. All funds support library collections and programs.