Aldrich Library November Newsletter
Event Date: November 30, 2017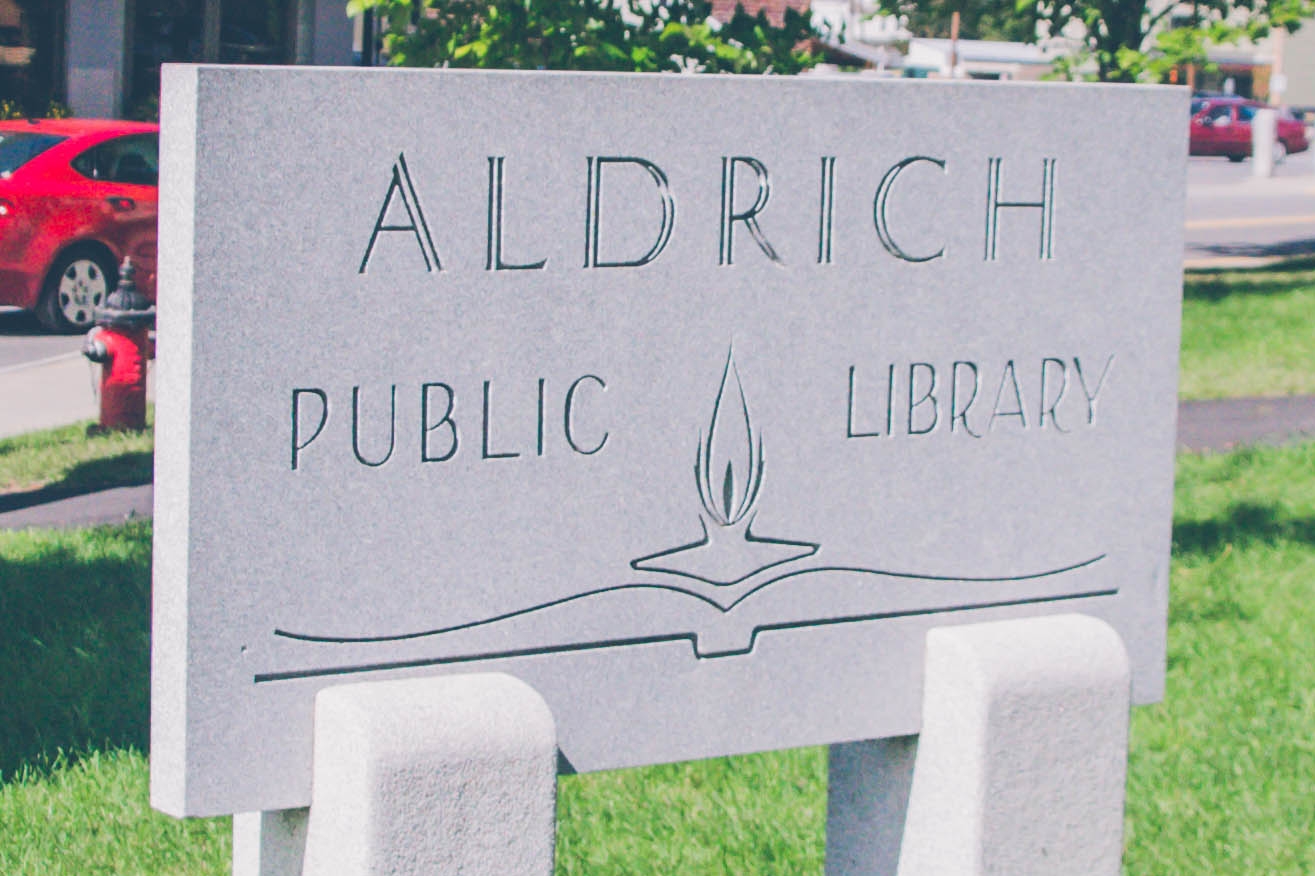 Author Visit: Multimedia Artist Juliacks on "Anatomy of an Atom"
SAT. 11/4 AT 2PM. MILNE ROOM.
Juliacks, the multimedia author of Architecture of an Atom, comes to Barre on an international book tour. Hear her read from the graphic novel and see some films and works from the greater expanded atomic project. Check out her book trailer here:
Architecture of an Atom | Book Trailer from Juliacks on Vimeo.
Greater Barre Community Writing Contest Winners Reception
WED. 11/15 AT 6PM. MILNE ROOM.
Come hear the best writers in Barre from 5 to 95 read their winning pieces aloud at the reception for the 20th annual Greater Barre Community Writing Contest. This year's theme was "Memoir: Writing from the Heart". Refreshments served.

Homemade pie raffle
Drawing will be on FRI. 11/17.
Legendary baker Marilyn Blake will make one 9" pie for you, just in time for Thanksgiving! $1 ticket, or 6 for $5. Proceeds support library programs.
Cozy basket raffle
From 11/17 through 12/15.
The perfect basket of goodies to get you through the winter! $1 ticket, or 6 for $5. Hosted by the library's Teen Advisory Council.
Knit 2Gether Fiber Arts Group
THURSDAYS, 1-3PM. VERMONT ROOM.
Fiber artists of all sorts, ages, and abilities are welcome. Give and get advice and inspiration with a great group of crafters! Spin, weave, knit, crochet and more.
FOR KIDS AND TEENS
Chess Club
FRI. 11/17 AT 3:45PM. MILNE ROOM.
Ages 7+ are invited to join us in a game of chess! Players of all levels welcome--no prior playing experience required. Feel free to bring your own chess set. Please RSVP by calling 477-1217!

Story Hour
EVERY MON. & TUE. AT 10:30AM. CHILDREN'S ROOM.
Stories, songs, and fingerplays, followed by a craft. Check Facebook to preview the theme each week!

York Branch Story Time
EVERY TUE. 10AM. YORK BRANCH.
All the fun of story time, conveniently located at our branch location in East Barre!
Baby Play
EVERY WED. 9:30-11AM. CHILDREN'S ROOM.
This playgroup is especially for 0-3 year olds and their adults. Brought to you by the Family Center of Washington County.

Lego Club
EVERY WED. 4PM. CHILDREN'S ROOM.
Come test your creativity with LEGO challenges and earn badges. Legos and snacks provided. Ages 5 and up.
It's more fun to DIY
2nd TUE. OF THE MONTH AT 5PM. (11/14). TEEN ROOM.
A different hands-on activity each month.
Teen Advisory Council
3rd THU. OF THE MONTH AT 4:15PM. (11/16)
Voice your ideas and bring programs and events to the library! Ask the librarian to join.

Yu-Gi-Oh! Club.
EVERY WED. AT 3PM. VERMONT ROOM.
Players of all levels welcome - some decks provided if you don't have your own!

Magic: the Gathering Tournaments.
EVERY FRI. 3-5PM. VERMONT ROOM.
Magic players of all ages and experience levels are welcome to join the ongoing games.
Pokemon Challenge. YA ROOM.
Earn a badge each week by taking on a challenge. For all ages.

Teens, come check out the new Teen Room layout and try out the perler beads and board games!
FOR ADULTS

Vermont Reads Film Festival: I Am Not Your Negro
WED. 11/8 AT 6PM. MILNE ROOM.
Join us for the final screening in our VT Reads Film Festival inspired by Jacqueline Woodson's "Brown Girl Dreaming". This 2016 Oscar-nominated documentary based on James Baldwin's unfinished novel is a searing examination of the story of race in America. Rated "98% fresh" on Rotten Tomatoes. Discussion afterwards led by Mark Hughes.

Reading Circle Book Group
WED. 11/15 AT 6:30PM. BOARD ROOM.
This month's selection is The Curious Incident of the Dog in the Nighttime by Mark Haddon. Copies are available at the library.
Genealogy Group
THU. 11/16, 10AM-12PM. BOARD ROOM.
Amateurs and experienced genealogists alike can join us as we offer support and explore our histories together.

Friends of the Library
TUE. 11/27 AT 6:30PM. BOARD ROOM.
Join the Friends of the Library to support Aldrich library! The Friends host fundraising events throughout the year including the annual banquet and auction, book sales, and more. All funds support library collections and programs.
Tech Help Tutor
EVERY THU. & FRI. 12-1:30PM. READING ROOMS.
Get help with everything from too-smart-for-their-own-good phones to Facebook and email setup. Our high school intern will work with you one-on-one to help you become more confident with technology.
Job Hunt Helper
EVERY WED. 3-6 & FRI. 1-3. READING ROOMS.
Our CCV Intern is here to help you find a job, get a better job, revise your resume, get a professional certification, explore different career paths, or anything else you need to move your career forward. Call 476-7550 to make an appointment.