Barre City BOR
Event Date: January 31, 2021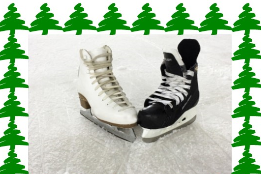 Barre City B.O.R. Limited Ice Rentals - COVID Compliant
½ Sheets of Ice
The Barre City B.O.R. ice arena will be available for rentals by the hour with the following conditions: Click the links below for registration times: Payment is due at the time of registration.
January 31 https://www.signupgenius.com/go/70a0d48aba829a5f58-bor3
1) One household reservation: One or more individuals, who occupy, live, eat and sleep in one housing unit. This prohibits the addition of children, cousins, grandchildren, etc. WHO DO NOT RESIDE IN THE ICE RENTER'S HOME.
2) A Coach or Instructor may hold a training – instructional session: Up to a total (including the Coach/Instructor) of 10 people will be permitted in the session. Social distancing must be present at all times to avoid any multi-household interactions. The use of this time slot is strictly for training – instructional purposes with a Coach or Instructor leading a structured hour. "Free Skate", "Stick & Puck", non-structured play or adult recreational hockey is not permitted under the guidelines.
Failure to comply with the above rental criteria guidelines will result in a loss of future rentals while under the temporary COVID rental period.
Rentals are scheduled in one-hour time blocks and must be reserved and paid in advance. The rental rate is $100.00 per hour for a ½ sheet of ice. All payments must use the portal listed below, we will not invoice or accept cash payments during this period.
Ice Rental Payments
· The City of Barre will accept on-line credit card or e-check payments only for these limited BOR Ice Rentals. Convenience fees are added to the credit card or e-check payment.
· You will see your total fee before finalizing your payment.
· Online payments can be made at the Xpress-Pay portal on the Barre City Web Site at the following link: https://pay.xpress-pay.com/org/1E896B33DF2D421
All participants must sign an Assumption of Risk / Waiver that includes verification of a temperature below 100.4 as well as a number of COVID symptom questions. Anyone under the age of 18 will need a waiver signature from a Parent or Guardian.
Admittance is permitted no earlier than 15 minutes before your rental time. Locker rooms will not be available, you are advised to come ready for skating. An area will be provided for you to put on your skates and/or equipment. You must leave the rink within 10 minutes of the conclusion of your rental. Each rental will have different areas to prepare for skating and to leave any shoes, etc. Masks are required at all times. Ice resurfacing will not occur after each hourly rental.