Donkey Basketball
Event Date: April 28, 2017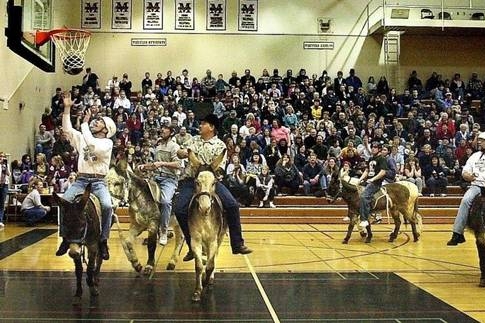 Join us for the this fundraiser event for OUR House, located in Barre. Guaranteed fun and laughs as teams compete for the crown in Donkey Basketball. Donkey basketball is played like regular basketball, except the players ride donkeys!
Ticket available HERE
OUR House of Central Vermont is your community Children's Advocacy Center, serving Washington County since 1990!
The purpose of OUR House is simple: OUR House provide's a comprehensive, culturally competent, team response to allegations of child physical and sexual abuse in a dedicated, child-friendly setting while offering support to the families, and non-offending caregivers. In addition, we work with adult victims of sexual assault and their support systems. OUR House offers a child appropriate/child-friendly setting and a multidisciplinary team with community members from various organizations within Washington County.
April is Sexual Assault Awareness month, and we are going to be holding a fundraiser and a community event to raise awareness on the evening of Friday the 28th up at the Barre Civic Center, within the auditorium. This event is going to be focused around Donkey Basketball with riders from all around the community!
Downstairs we will have local organizations showing off the great work they and food vendors and spirits for sale - come out and spend the evening with your family and community for a great cause!
You can find more information at: http://www.vtchildrensalliance.org/in-the-spotlight/ and scroll down to the bottom for OUR House!
Project Grad will be selling raffle tickets for a cash prize, so bring your cash and good luck with you!