Fire Prevention Kits
Event Date: September 29, 2020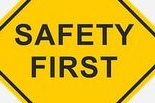 What is the kit all about?
• Through a State Farm grant, we are giving away 2,500 Fire Prevention Week kits across the country.
• The kit contains resources to help local fire department outreach to communities during Fire Prevention Week (October 4-10, 2020).
• The theme for Fire Prevention Week this year is "Serve Up Fire Safety in the Kitchen."
• Home cooking fires represent the leading cause of home fires, with nearly half (49%) of all home fires.