Green Up Day
Event Date: May 05, 2018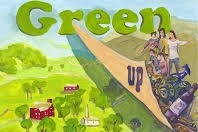 Green Up Day is May 5th!
This the time for state wide spring cleaning. For those planning to Green Up in Barre City please contact John Lewis, at Spaulding High School so we can coordinate areas being cleaned up around Barre City. jlewishs@u61.net, 476-4811 ext. 2221
Green Up bags will be available the week before Green Up day at these locations around town:
City Clerk's Office, 6 North Main St.
Maria's Bagels, 162 N. Main St.
Community Bank, 361 N. Main St.
ReSource, 30 Granite St.
Spaulding High School, 155 Ayers St.
The Public Works dept. will canvas the city for Green Up bags on Saturday, May 5, and Monday and Tuesday, May 7 & 8. So, if you can't Green Up on Saturday go out on Sunday, Monday, or Tuesday.
For hazardous materials, such as discarded hypodermic needles, call 476-6613 with the location to arrange safe disposal.