The Cemetery and Parks Department maintains our cemeteries. Cemetery maintenance includes maintaining the lawns, the water lines, the roads, and planting the flowers.
Each member serves a 2-year term. Members and term limits for FY23 are:
Primary Staff: Jeff Bergeron, Director of Buildings & Community Services - jbergeron@barrecity.org
Alternate Staff: Stephanie Quaranta, Assistant Director of BCS - Recreation - squaranta@barrecity.org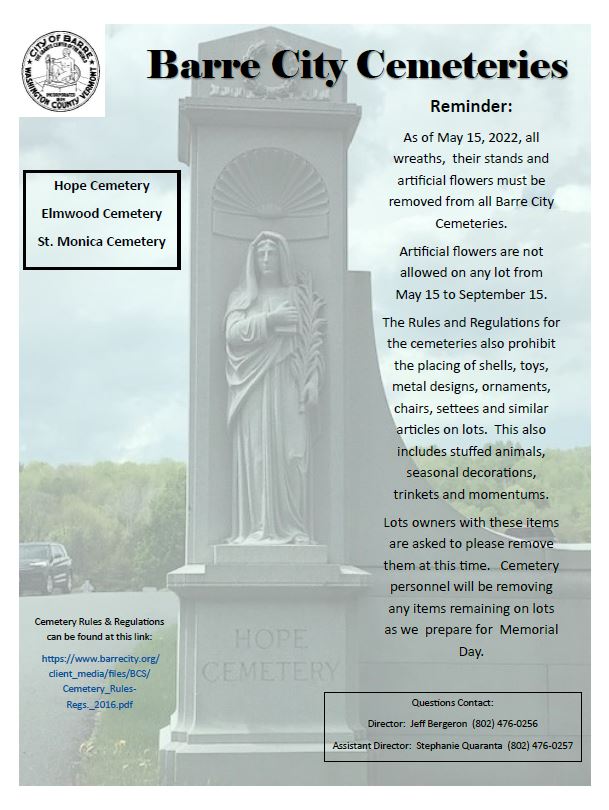 The Director also serves as the City Tree Warden who shall include the authority to supervise and enforce the provisions of the specifications and standards adopted by the City. The Tree Warden has the authority to supervise and inspect all work done under a permit issued in accordance with the terms of this ordinance. Permits shall be required for the planting, maintenance, removal, and replacement of trees on the City's streets and public places.
For more information contact:
Jeff Bergeron
Director of Building and Community Service & Tree Warden
20 Auditorium Hill
Barre, VT 05641
(802) 476-0256
Cemeteries@barrecity.org