Downtown Historic District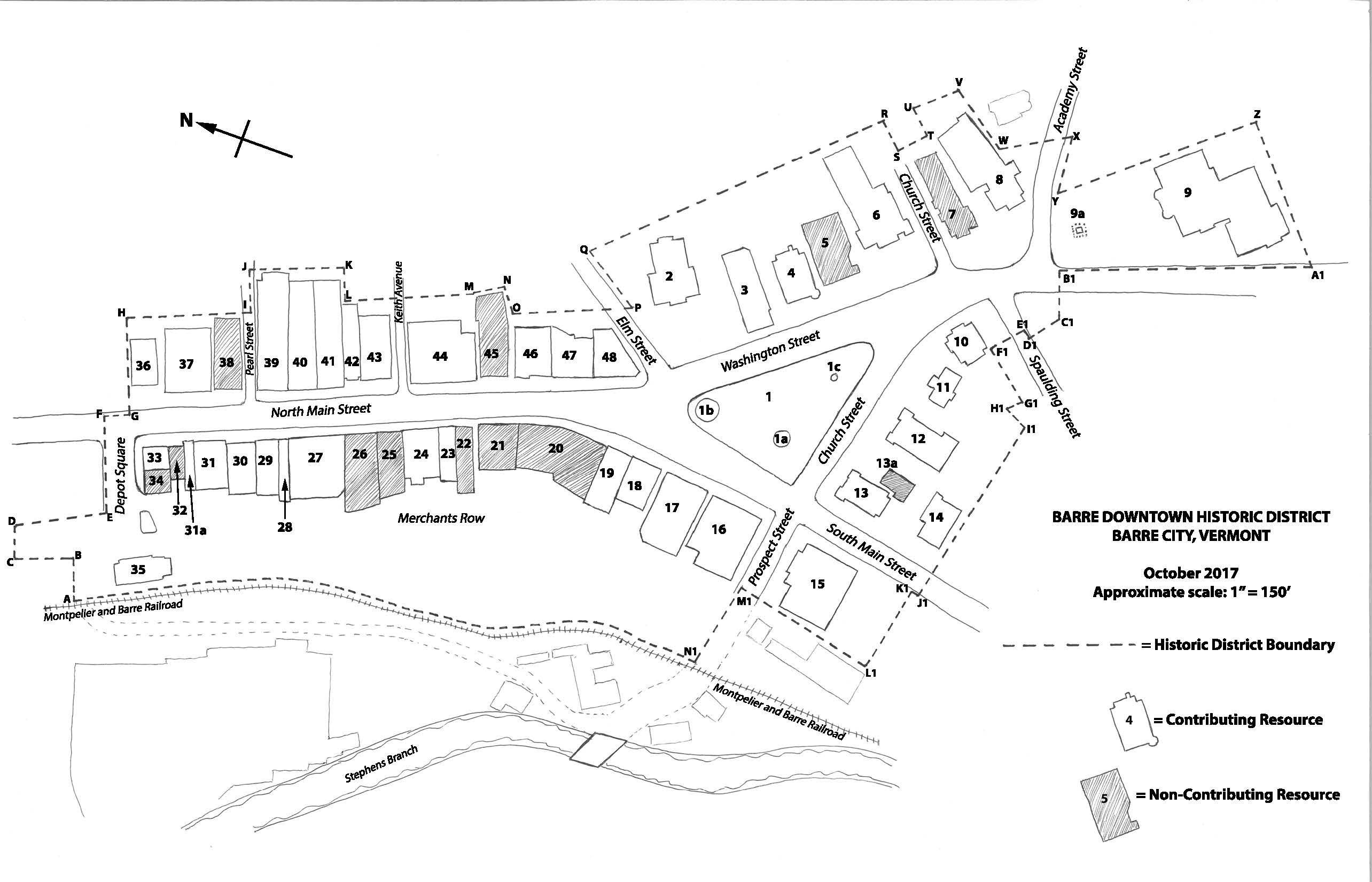 The Barre Downtown Historic District (the "District") was originally listed in the National Register of Historic Places on September 4, 1979. The 2017 work updates the number, description and documentation of properties within the boundaries of the existing District. It clarifies and expands the period of significance and documents previously unrecorded resources as well as those constructed after 1979. Non-contributing buildings are inventoried but only briefly described. In this document, each resource in the District has been re-numbered to account for buildings that have been removed and/or constructed since the original nomination in 1979. The District focuses on the city's core central business district, which includes a mix of commercial, civic and religious buildings generally constructed between the mid-19th and early 20th centuries.
The world-renowned granite quarries that gave form to Barre as an industrial city are located approximately three miles further southeast of the downtown area, in Barre Town. The principal street in the Barre Downtown Historic District (the "District") is Main Street (North and South).
The District is comprised of two contiguous sections: 1) the linear business district along the North Main Street axis, and 2) the City Hall Park area. Both sides of North Main Street are bordered by late-19th and early 20th century commercial buildings, ranging in height from one to four stories. Development occurred in an orderly fashion, with consistent setbacks from the street, and most of the buildings are built of durable materials, including brick and, most notably, granite from nearby quarries that was cut and finished locally. North Main Street sprang up when the large-scale industrial production of granite became a reality with the advent of rail service in 1875 and a quarry railroad in 1888.
Each of the numbered buildings on the map above corresponds to a particular address and possible current (as of March 2020) business. They are listed below and can be downloaded as a file HERE.
For ease in review of the updated 2017 National Register of Historic Places Form that was performed by a consultant to the Barre Area Development Corp., it has been broken down by NARRATIVE SUMMARY; RESOURCE INVENTORY; SIGNIFICANCE SUMMARY; BOUNDARY DESCRIPTION; and PHOTOGRAPH LIST SUMMARY.
Photographs of the buildings and objects located within the Downtown District were taken by both the Consultant, Ms. Liisa Reimann in July 2016, and by the State Architectural Historian Mr. Devin Coleman in October of 2017. They are COVER PAGE TO PHOTO 18; PHOTOS 19-38; and PHOTOS 39-61.