The North Main to Summer Street Master Plan - March 2012
The City completed a project called the North Main to Summer Street Master Plan with the assistance of ORW Landscape Architects and Planners in March of 2012. It was funded by a municipal planning grant awarded by the State of Vermont Department of Housing and Community Affairs, and sets the groundwork for the next set of plans.
The area is about 10 acres in size and includes 35 parcels (some of which were already in public ownership). This Master Plan addresses parking, travel ways, pedestrian accommodations, and other considerations for this area. A large public outreach component occurred for this as well. Ideas for this area included parking garages, adding in a park, adding new affordable and mixed use housing to parking lots that front on Summer Street while removing some poorer quality housing located in the interior.
This area was selected for consideration because of the deteriorated nature of many buildings, the lack of an attractive public streetscape, many vacant storefronts and vacant properties, excess of pavement and lack of greenspace. It is a part of the Urban Center-1 and -2 Zoning Districts (then called the Central Business District) with little hope of success in it current layout and configuration. Before making substantial investments in this area, though, a comprehensive plan for the area was needed. This Master Plan addresses many master plan topics including parking and streetscapes (transportation), affordable housing (housing element), economic development (downtown revitalization chapter), and land use. Secondarily it could impact public safety, storm water runoff (due to the new park), and facility issues.
In 2010 this area experienced a devastating fire in the historic Aldrich Block (which is one corner of the study area that houses the Cornerstone Restaurant and the Times Argus offices) and the City purchased and demolished a blighted building at the other end of the study area on Main Street (now the Barre City Place building has been built in this area).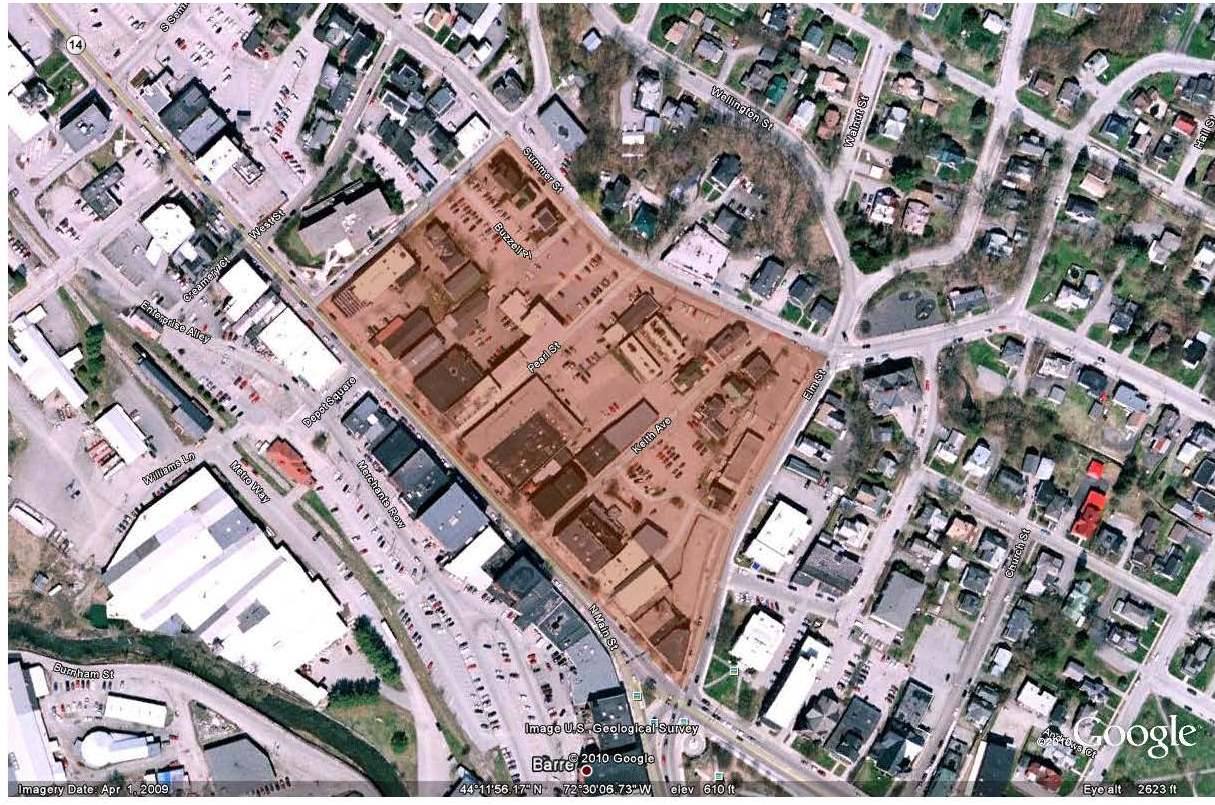 The City wanted to have projects getting built (N. Main Street Reconstruction, a $16M project that completely rebuilt Main Street from building face to building face including all utilities, trees, paving, sidewalks, and amenities; and City Hall Park's facelift) while some were preparing for implementation (Enterprise Alley) while others are getting through concept stages. These large projects are not things that can be completed quickly. This project's implementation begun in 2013 after N. Main Street reconstruction was complete. This over Master Plan will not be complete for many years after because it requires multiple pieces and parts, but is a start, and should be revisited and updated now that City Place is built, the Keith Avenue Parking Lot is complete, Downstreet Housing built their offices/apartment building, and the Aldrich Block has been rehabilitated and is a successful, thriving property.
North Main to Summer Street Master Plan: